One way to improve your beauty regimen is to schedule regular facial appointments. At Plastic & Reconstructive Surgeons in Renton, WA and Maple Valley, WA, our facials and chemical peeling treatments are formulated to address your particular skin care needs at our beautiful med spa. Whether you are looking for a Hydrafacial, deep cleansing, facial massage, or anti-aging solutions, our skincare specialists are here to help you determine which treatment is right for you. Plastic & Reconstructive Surgeons' facials are formulated to meet your individualized skin care needs.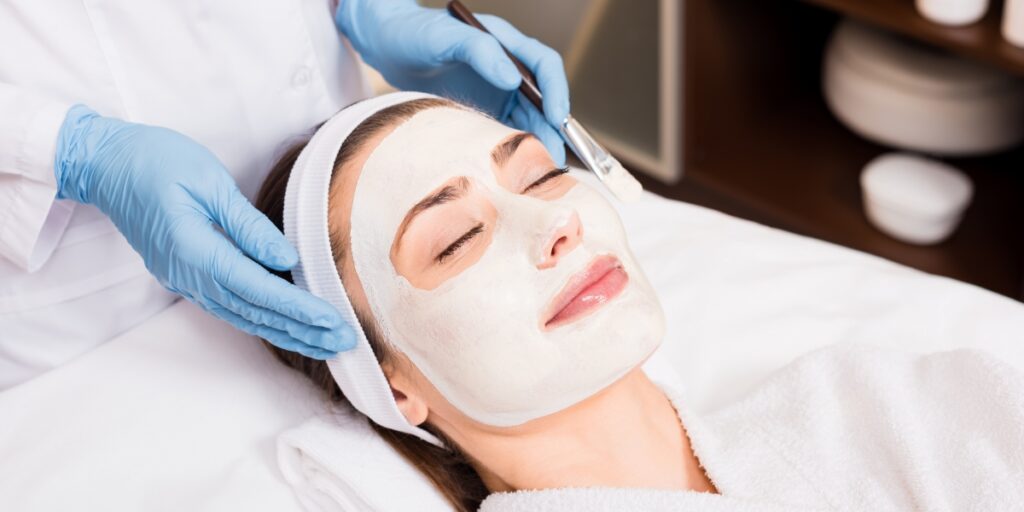 ---
How Facials Help You Meet Your Aesthetic Goals
Our aestheticians can provide you with professional facial treatments based on your individual needs. Combined with good home skincare, facials are the perfect way to maintain and correct your skin. We offer a range of facial treatments that can help you meet your aesthetic goals, including:
Hydrafacial
Our most popular treatment. Hydrafacial addresses all of your skincare needs – fine lines, elasticity, even tone, oily and congested skin, and large pores. It deeply cleanses, extracts, and hydrates the skin using our super serums.
Signature Facials
Get pampered with our signature facial. It is both relaxing and functional. It includes a deep cleanse, exfoliation, custom mask, facial massage, extractions if needed, and a hand and arm massage.
Express Facials
This treatment is a mini-version of our Signature facial—a sampler, including cleansing, exfoliation, mini-massage, and treatment mask.
Teen Express Facials
This facial is tailored to the specific needs of younger skin. The treatment focuses on skin care education and providing a clinical facial for young teens.
Acne Treatment
This treatment's focus is tailored to soothing and rebalancing problem skin. Deep cleansing, extraction of impurities, disinfecting high frequency, and soothing mask.
Anti-Aging Facials
This intensive treatment is designed to plump and firm aging skin. It addresses mature skin with an age-repair mask and age-repairing serum, Kneipp therapy, lymphatic drainage, and percussive facial massage. This treatment is concluded with a hand and arm massage.
Vitamin C Facials
All aspects of this facial are designed to address maturing and environmentally damaged skin. Vitamin C, nature's antioxidant, is infused in this facial to nourish and refine the skin. This specialty facial includes a hand and arm massage.
Manual Lymphatic Drainage
Manual Lymphatic Drainage (MLD) is a type of gentle massage intended to encourage the natural drainage of the lymph, which carries waste products away from the tissues back toward the heart. MLD is an excellent post-operative treatment that can be incorporated into a facial to reduce swelling and bruising after certain cosmetic facial procedures. Our aesthetician is certified in this gentle massage technique.
---
Chemical Peeling Treatments
Over time, your outermost layer of skin can accumulate dead skin cells, sun damage, and other types of imperfections. Chemical peels provide an effective and refreshing way to remove this layer of skin, exposing healthy and clear skin beneath it.
Our peeling treatments are designed to improve your skin's texture and overall appearance by exfoliating the outer layer of skin while stimulating cell turnover. Chemical peels can result in smoother, clearer, and more youthful-looking skin, all while minimizing issues such as hyperpigmentation, sunspots, and even acne scars. We are pleased to offer several peeling treatment options: glycolic peel treatments, Blue Radiance peels, and Obagi Blue peels.
---
Visit Plastic & Reconstructive Surgeons for a Facial
Talk to the skin care specialists at Plastic & Reconstructive Surgeons to determine which treatment is right for you. Our med spa provides custom facials to address all your beauty needs in the Renton, Maple Valley, and Black Diamond, WA communities. Contact us or call today to schedule your consultation at (425) 228-3187.